Har Ki Pauri
Har Ki Pauri is the soul of Haridwar. Every evening thousands of people enlighten themselves with Maha Aarti performed here. Taking bath in this ghat is an auspicious karma that takes closer to Nirvana. Worth of thousand visits, this place has an aesthetic value too.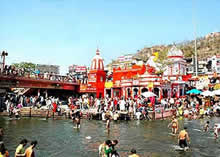 Mansa Devi
Mansa Devi is another landmark destination for Haridwar. Located on the top of a hill called Bilwa Parvat this temple has another attraction for its rope way. Besides its mythological and sacred features, this place is an ideal for an picturesque view of Haridwar.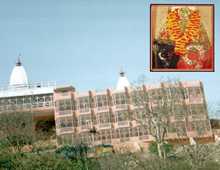 Chandi Devi
This sacred temple is located on the top of a hill called the Neel Parvat which is on the other side of the river Ganga. The temple was constructed by the King of Kashmir, Suchat Singh, in 1929 AD. Famous for its festival after Dushera, this temple attracts thousands of people every day.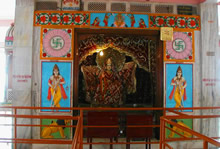 Sapt Rishi
At a holy spot in Haridwar River Ganga divides herself into seven small streams. Known as Sapt Rishi this place provides a very pleasing sight.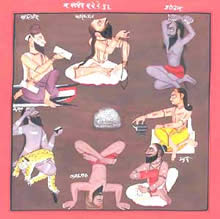 Maya Devi
Regarded as one of the Shaktipeeths in India, this ancient temple of Maya Devi is also the Adhisthatri deity of Haridwar. It is said that when Lord Shiva was marrying his wife Sati, who had burnt herself to keep the honor of her husband, then the heart and navel of Sati had fallen at this place.
This is one of most sacred places in Haridwar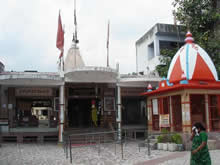 Daksha Mahadev Temple
Situated at Kankhal, Haridwar this temple has a mythological value for the Daksha Yagya. This place is also worth of visits for Ma Anandamayee Ashram and Baba Ramdev's ashram.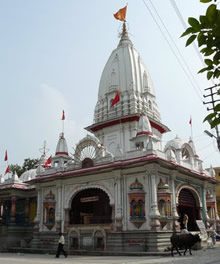 Other Attractions of Haridwar
Gurukul Kangri University
This university is known for its unique system of education. it is located on the Haridwar-Jwalapur bypass road. This institution follows the ancient tradition of Guru-Sishya pattern of education. The institution also has the Ved Mandir Museum which is having a wide collection of archaeological exhibits and displays artifacts which are of historical value.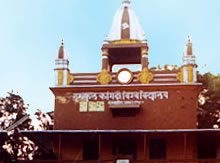 Neel Dhara Pakshi Vihar
This place is an enchanting bird watching point particularly during the winters. There are various species of birds which can be spotted here. On the banks of river Ganges one can expect the Siberian Cranes, which is one of the visitors to this Pakshi Vihar.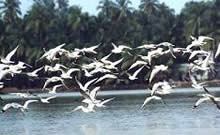 Excursions of Haridwar
Rishikesh
Rishikesh, 24 KMs from Haridwar, is known as the Tapo Bhumi or the place for meditation of the Gods. Rishikesh is one of the popular pilgrimages for the Hindus. Here, the Ganges bids adieu the mountains and prepares herself to begin a long journey through the plains.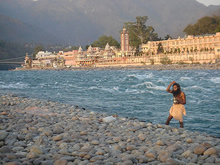 Mussoorie
The queen of hill stations is just 89 KMs from Haridwar. The salubrious climate and deep woods makes it an ideal hill station.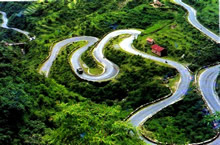 Dehradun
The present capital of Uttarakhand is located in the Shivalik hills, just 54 KMs from Haridwar. The thick woods and scenic beauty of the place is enough to capture the imagination of any tourist. Besides Indian Military Academy, Dehradun has many industries.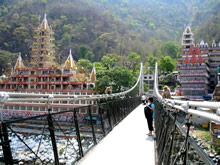 Chila
Chila is famous for Rajaji National Park a popular destination for nature and adventure lovers. The scenic beauty and rich biodiversity of the park has been attracting wildlife lovers from India and abroad. The park has 23 species of mammals and about 315 avifauna species.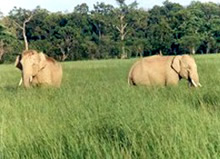 Fairs & Festivals of Haridwar
Kumbh
Kumbha is a Sanskrit word that means "kalasha" in hindi and "pitcher", an open vessel with a handle and a spout in English. Also, one of the Zodiac signs "Aquarius" means kumbha, so it is this sign under which this Mela falls. "Mela" refers to a public gathering for fun or any specific purpose. Kumbha Mela is a very popular and widely respected Hindu pilgrimage. Although the Purna Kumbh Mela (great Kumbh Mela) occurs every 12 years, but the Ardh(half) Kumbh Mela is observed every 6 years.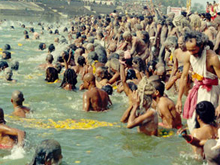 People from all classes of society come in multitudes to the fair grounds driven by the desire to take a dip in the sacred river waters as well as to receive the blessings of the great holy men assembled in the fair. Many of the devotees live in camps and ashrams (temples) for the whole duration of the mela and lead a sacred life. Such a living is called "Kalpavas" and those who live thus are called "Kalpvasi". Like its bigger counterparts (Purna Kumbh Mela, Maha Kumbha Mela) and smaller counterparts (Magh Mela) the purpose of organising Ardh Kumbh Mela is to commemorate the legend of the struggle between the gods and demons over the Amrita Kumbha (pot of nectar) and draws innumerable crowds who believe in the Hindu Puranas and come in quest of purifying their soul before entering the realm of god.
Ardh Kumbh
Though every Hindu festival is celebrated here with pomp and gaiety, it is the Ardh Kumbh which attracts the mind of any tourist to this place. The Ardh Kumbh is held every six years. It is said that a holy dip in the river Ganges during the Kumbh gives you Moksha or Nirvana .People gather in huge number to take the holy dip during these holy days.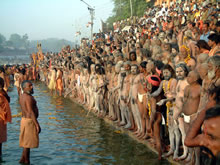 Kanvad Mela during Sawan Month dedicated to Lord Shiva
Ten days before Shivteras (during the Krishna Paksh or Waning Moon of Indian months of Shraavana & Phaalgun) thousands of devotees throng to Hardwar to collect holy waters of the river Ganga. Then they carry it back to their hometown & offer it at the local Shiv temple. Colourful shops spring up and Hardwar resounds to the chanting of hymn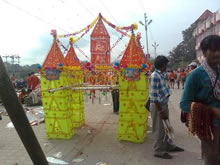 Char Dham Yatra
Holy Himalayas up in the misty heights of the majestic Garhwal Himalayas that adorn the magnificent state of Uttaranchal, awaits a rejuvenating spiritual experience for the devout. Nestling in the lofty peaks are the four most holy pilgrimages of India -Yamunotri, Gangotri, Sri Kedarnathji and Sri Badrinathji, collectively referred to as the Char Dham ( or four pilgrimage centres) of Hinduism.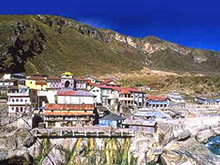 For centuries, saints and pilgrims, in their search for the divine, have walked these mystical vales known in ancient Hindu scriptures as 'Kedarkhand' If the scriptures of HINDU RELIGION are to be believed, the holy centres of Gangotri, Yamunotri,Badrinath and Kedarnath - collectively called theChardham (meaning four sacred spots) - are the mostsacred of all pilgrimages. Undertaking a journey to these places will not just wash away one's sins butensure release from the cycle of birth and death.THE honour conferred on these places is not surprising.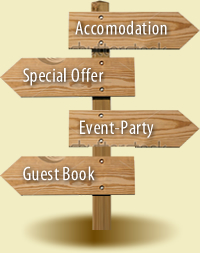 Leisure Holidays
Hotel Hari Heritage brings to you a majestic experience of leisure holidays to enrich your mind and soul.>>
How to reach
45 minutes drive from airport
10 minutes from railway station & Bus Terminal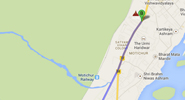 Driving directions to Haridwar Hotel, Hari Heritage
Entering to Haridwar City first main crossing is Singh Dwar Crossing OR Gurukul Kangri chowk. Move straight from this crossing to Shankracharya Crossing on NH.58.Haridwar Rishikesh Highway. Distance 2KM.
Take Right turn from Shankracharya crossing and move straight towards Chandi Chowk Crossing on NH.58.Haridwar Rishikesh Highway. Distance 1KM.
From Chandi Chowk Crossing move straight to Doodhadhari Chowk Crossing on same NH.58 Haridwar Rishikesh Highway. Distance 4KM.
Location is one of the key reasons for which Hotel Hari Heritage has established itself as a preferred destination of the tourists.
more detail...

Accomodation
Each room of the Hotel Hari Heritage is designed and decorated keeping the taste of Haridwar's eternal beauty in mind. >>